[ad_1]

Ghanaian-based steel manufacturing company B5 Plus Limited has been named the Best Corporate Social Responsibility Company of the Year at the just ended Millennium Excellence Awards 2021.
This year's edition of the awards was held at the Manhyia Palace in Kumasi on July 17, 2021. It was chaired by the Asante kingdom Otumfuo Osei Tutu II overlord.
Held every five years, this year's event also saw President Akufo-Addo and other notable government appointees in attendance.
The Millennium Excellence Awards is organized every five years to honour institutions and individuals for their contributions to national development.
The citation handed to the company which was accompanying the plaque reads, "the Life Patron, Otumfuo Osei Tutu II – Asantehene and the illustrious Board of Governors of the Millennium Excellence Foundation, are pleased to confer on B5 Plus Care Foundation the coveted Millennium Excellence Award for Corporate Social Responsibility in high recognition of the marked improvement it has made in the lives of Ghanaians."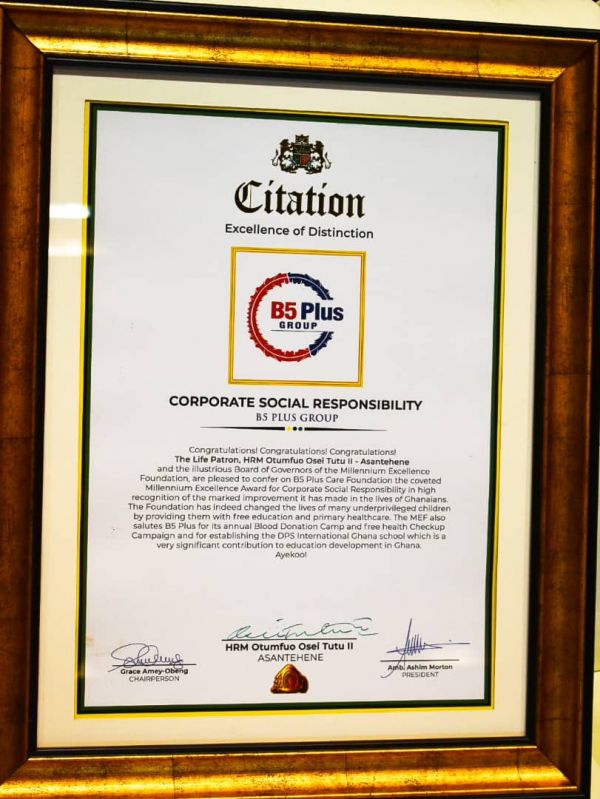 "The Foundation has indeed changed the lives of many underprivileged children by providing them with free education and primary healthcare.
"The MEF also salutes B5 Plus for its annual Blood Donation Camo and free health Check-up Campaign and for establishing the DPS international Ghana School, which is a very significant contribution to education development in Ghana…Ayekoo."
Speaking after the awards, the CEO of B5 Plus Limited, Mukesh Thakwani, said, "this is a special award because of what B5 Plus Limited has been doing in CSR; this is an outstanding recognition."
He added, "today we are very proud to say that since March 2020, we delivered free oxygen to all government and private hospitals, 100% medical care, free education and donations – so all our Corporate Social Responsibility works have been recognised, and we are thankful to the Asantehene and President Nana Akufu Addo, in whose presence, this award was given to us.
"We are really thankful to Millennium Foundation for this, and I will like to add that B5 Plus will keep delivery the free Oxygen to all government and private hospitals till are able to put the Covid behind us."
B5 Plus Ghana Company Ltd is a West African manufacturing, fabricating, and trading enterprise with the vision to become the world's steel industry benchmark through its people's excellence, innovative approach, and overall conduct.
With corporate headquarters in Tema Ghana, today, B5 Plus Limited operates in all the ECOWAS Countries, with a significant presence in African steel as an integrated steel and finishes steel manufacturer.
The principal product is steel products in seven major categories: Mild Steel, High Tensile & Iron Rods, Galvanized Products, Stainless Steel, Marine and Mining, Roofing and Nails and Concrete and Fencing.
As a supplier, B5 Plus Limited is an accessible business partner who can ensure quality and security of supply, value strong relationships with their customers, and believe that commercial relationships are a learned skill.
[ad_2]

Source link